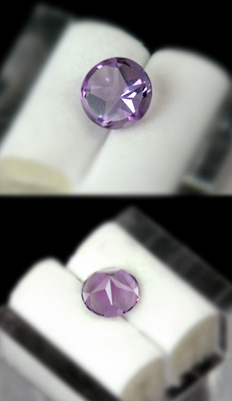 Mineral:
quartz
Gem:
amethyst
Size:
9 mm
Carat:
1.9 ct
Cut:
Texas star cut
Origin:
unknown
Genral Info:
The name is derived from the German "quarz" of uncertain origin. It was called "krystallos" by the Greeks, but this later became the generic term for crystal.
Additional Information
Purchase in San Antonio, Texas many years ago it sold as the "Texas Star Cut". It was cut in Texas and nicely done. Material is a little light in color.