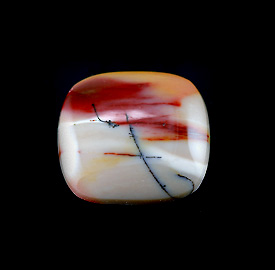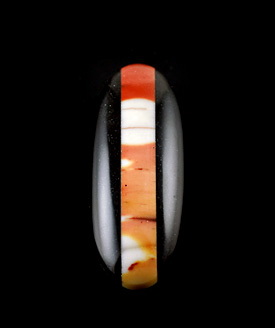 Mineral:
quartz
Gem:
mookaite jasper
Size:
30x32 mm & 18x43 mm & 16x60 mm &
18x45 mm & 25x35 mm
Carat:
50+ ct & 50+ ct & 57+ ct
& 57+ ct & 43 ct
Cut:
freeform cabochon
Origin:
Australia
General Info:
Jasper is derived from the Anglo-French "jaspre", meaning "spotted stone". Jasper is usually formed from old sediments (or volcanic ash flows) that have been glued (and at times replaced) with silica.

Flow patterns of the original material are often easy to see. Many jaspers are know as picture jasper because they contain what appear to be small images of sand dunes, mountains, plains, and even sky. Since the original materials were likely cross bedded sediments, they often contain the structure they mimic.
Additional Information
Mookaite comes in a rainbow of colors on the warm end of the spectrum. It is a jasper after a very fine siltstone, and often has some broad flow patterns. It takes a very high polish and the top quality material rings when tapped. Reds, magentas, yellows, browns, purples, creams, black, white and few dendrites make it a real beauty. All stones cut by the author.
The stones with dark frames are made from either black agate or jade. The second stone is actually an edge from a cut slab that was used in the center of a long oval. The "mosaic" stone was made up of colors from three different slabs.