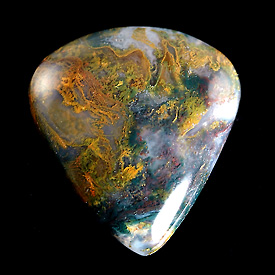 Mineral:
quartz
Gem:
needle peak moss agate (cryptocrystalline)
Size:
30x32 mm & 18x32 mm & 22x24 mm
Carat:
41.2 mm & 29.2 ct & 19.3 ct
Cut:
cabochon
Origin:
Texas
General Info:
Agate (achates) was named from the river Achates, now the Drillo, in Sicily, where the stone was first identified. It is cryptocrystalline quartz (micro crystals) usually with a banded pattern (although not always).
Additional Information
Needle Peak is located Brewster Co. Texas, S. of Terlingua and a little west of Big Bend national park. There are a multitute of moss colors found in this ara. (Also sagenite, and pompom agate.) My experience has been that the darkest green mosses will under-cut very easily, whereas the other colors seem to cut very well.
Cabs cut by author.