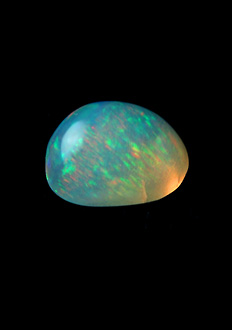 Mineral:
opal
Gem:
precious opal
Size:
Carat:
Cut:
oval cabochon (high dome)
Origin:
Brazil
General Info:
The name is probably from the Latin "opalus", meaning "precious stone".
Additional Information
This stone was cut by the author and has what is called "pin fire". The fire is made up of straight, roughly parallel lines of color that are long and thin. See macro picture below for a closeup.