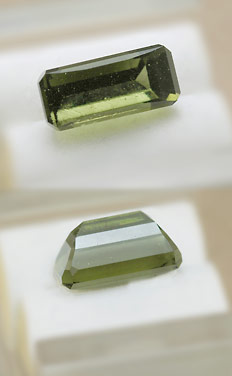 Mineral:
tektite
Gem:
moldavite
Size:
Carat:
Cut:
cross bar cut
Origin:
Czech Republic
General Info:
Moldevite is named for the locale in which it was found near the Moldau River in Czechoslovakia. It is likely ejected material from a German meteorite impact site, as both the site and the moldevites seem to be about 15 million year old.
Additional Information
The cut stone is a cross bar pattern cut by the author, but the color is not particularly pretty. I have seen only one or two moldavites that I might consider more than "collectable stones" for their unique history. Most cut moldavites are dull and lack-luster.